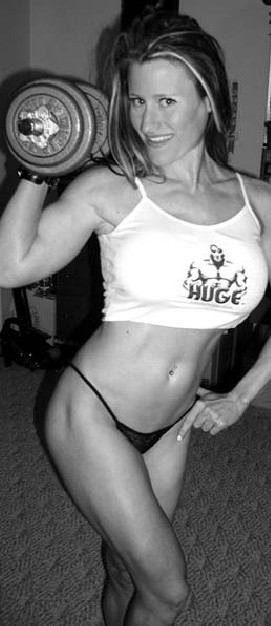 FREE Fitness Program
Build Muscle, Burn Fat
Get Your Dream Body Fast
Works For Both Women and Men!
Enter your first name and a valid email address
for instant access to the free ebook and workout routines.

Tatiana Anderson
Bodybuilder and Fitness Model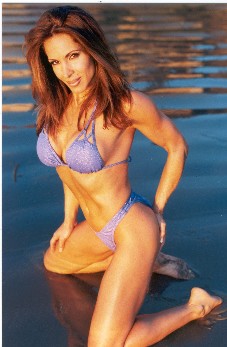 Exotic beauty and human dynamo Tatiana Anderson is a woman that's pretty much done it all. Host of ESPN's top rated fitness show Kiana's Flex Appeal, Tatiana has hosted a lifestyle show with Robin Leach on CBS, interviewed on EXTRA and Inside Edition and even appeared in episodes of Friends, Baywatch, and She Spies!
Born in Las Palmas, Gran Canary Islands, Spain, Tatiana moved to the States with her mother and two sisters as a young child. She was an active, multi-talented individual that got involved with modeling, beauty pageants, dance, pep squad, cheerleading and baton twirling. In fact, by the age of nine, she had over 150 trophies and a World Championship under her belt.
Her family relocated to Houston, Texas where Tatiana developed a passion for fitness, so much so that she started teaching aerobics at age 14. Little did she know that she would become one of the top fitness competitors and spokesmodels in the business. It was definitely her tenacity and determination that propelled her to win many titles including: Ms. National Fitness, Ms. Texas Fitness, Ms. Fitness USA, and Ms. Petite Texas also coming in second in the Ms. Fitness World Competition two years in a row. It was through her fitness accolades that she was recognized as a top contender and sought after by major supplement, swimsuit and clothing companies as well as magazine publications while building a wide fan base.
Tatiana has featured in many publications including Controversy, Oxygen, Muscle Media, Muscle & Fitness, Fit Magazine, Physical and Newbody. She's also been a cover model for magazines Nutrition Express, Ms. Fitness, Ironman and Olympus.
For the past ten years, Tatiana has worked as a host, model, actress, health and beauty consultant. As a former professional, she is author of the how to book, "Step By Step Guide To Fitness Competition Success". She is also a former professional cheerleader for the NFL Denver Broncos, NBA Houston Rockets and the USFL Houston Gamblers.
Now living in Las Vegas, NV, Tatiana has launched into a successful career as spokes model, TV personality and entrepreneur. Her latest project is hosting a series of infomercials. Tatiana is high-spirited and has an insatiable desire to succeed.
For further information, please contact Anderson Enterprises at (323) 633-3446 or log onto her website, www.tatianaanderson.com.