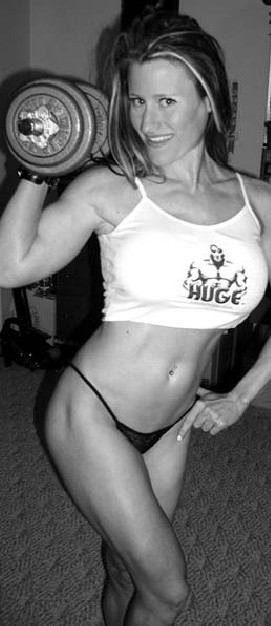 FREE Fitness Program
Build Muscle, Burn Fat
Get Your Dream Body Fast
Works For Both Women and Men!
Enter your first name and a valid email address
for instant access to the free ebook and workout routines.

Becky Conti
Fitness Figure Model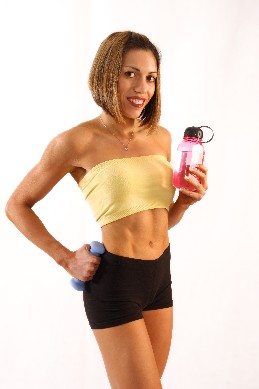 Height: 5í4
Weight: 120
Chest: 34Ē
Waist: 25Ē
Hips: 35Ē
Born: 02/05/84
Occupation: Personal Trainer
e-mail: beckyconti@gmail.com
I grew up in South Jersey, where my parents instilled in me at a young age how important it is to lead a healthy and active lifestyle. I have always had a great passion for fitness and it has been a major part of my life since I was a child. I participated in sports such as gymnastics, field hockey, and basketball, but my real enthusiasm was for track and field. I ran track as a sprinter for 10 years, and had the opportunity to run at the Penn Relays in 2001, and qualified the New Jersey State Finals in 2002 for the 400 meter dash.
I didnít discover my love for weight training until my senior year of college at Towson University. In college I started to realize the importance of good quality training and nutrition and I began researching the subject and subscribing to fitness and bodybuilding magazines. I decided to enter my first figure competition and ended up placing 2nd in my class. Then I was hooked. Iíve since competed in 2 other shows and placed 1st and 3rd, respectively. My goal is to receive my Pro Card and compete at a national level by next season.
I studied for my personal trainer certification and became a trainer. Iíve been training at Merritt Athletic Club in Baltimore for almost 3 years and I absolutely love it! Last year I also studied to receive my second certification to make me a Lifestyle and Weight Management Consultant. This allows me to help people with the lifestyle and behavioral changes that produce long term weight loss. I feel very lucky to be able to have a job doing something I feel so passionate about. Working to better the health and body composition of my clients requires me to stay up to date with current research in the health and fitness industry.
Currently, I am single and living outside of Baltimore, Md. I am training for a figure competition in early May and plan to continue into the fall. My career goal is to continue growing in the fitness industry and someday own my own gym. I would love to make a dent in the rising obesity epidemic that is taking over the country.