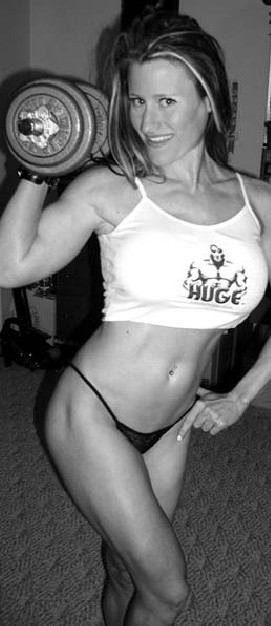 FREE Fitness Program
Build Muscle, Burn Fat
Get Your Dream Body Fast
Works For Both Women and Men!
Enter your first name and a valid email address
for instant access to the free ebook and workout routines.

Michelle Beck
Fitness Model and Figure Competitor
Biography
I live in Fort Worth, TX, I am 28 years old and I recently got married to my high school sweet heart in Playa Del Carmen, Mexico. I have a B.A. in Public Relations and I currently work as a buyer of machine parts at an Aeronautics Company. I currently train at two gyms here in Fort Worth TX, LMRA with my personal trainer, pro-bodybuilder Abdul Sharif and at Fazeke's Gym. Exercise and living a fit lifestyle has been a part of my life for the past ten years, but it is just recently that I have gotten serious about competing and pursuing my dream of becoming a fitness model.
Stats:
Height: 5'10
Weight: 140 (contest), 148 (off season)
Measurements: 36-26-37
DOB: 12/23/1980
Accomplishments
2009 Musclemania Fitness Texas show-1st place in Figure Tall
2009 Musclemania Fitness Texas show-2nd place in Ms. Bikini Tall
2002 John Sherman Classic-Figure Tall
If you are interested in booking me for fitness modeling opportunities please contact me at michelle.ivette.beck@gmail.com
Other Interesting Facts
Starred in a local TV show called "Fit in Fort Worth" with "The Next Level Fitness" that showed people how to workout from home from different important locations all around Fort Worth, TX. I was also a "TicketChick" for the Dallas radio station 1310 "The Ticket" and was in their 2003 swim suit calendar.