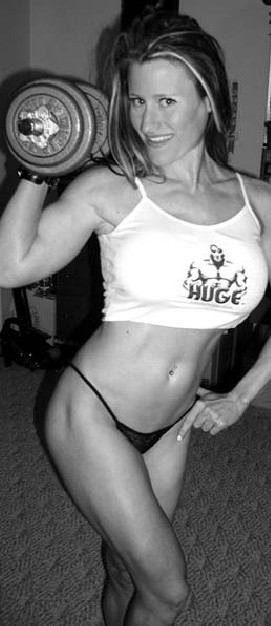 FREE Fitness Program
Build Muscle, Burn Fat
Get Your Dream Body Fast
Works For Both Women and Men!
Enter your first name and a valid email address
for instant access to the free ebook and workout routines.

Kim Schaefer
Personal Trainer Nutrition Consultant NPC Figure Competitor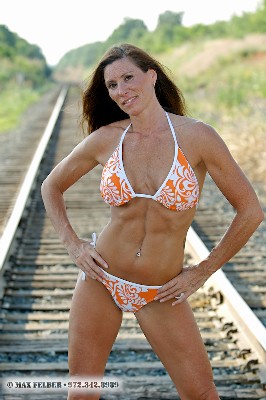 Bio
Iím a certified personal trainer and nutrition consultant in North Dallas Texas and a national level NPC figure competitor. Iím a mother of 2 daughters and am continuing my education in marketing and plan to graduate with my bachelorís degree in 2010. Iím also a rep for Applied Nutriceuticals.
Stats:
Height: 5í6Ē
Weight: pre-contest- 122lbs, off- season 126-130lbs.
Measurements: 36C-25-35
Eye color: brown
Hair: dark brown
My Accomplishments
Mid- Illinois Figure championships Ė April 2003- 4th place
Iowa Regional Figure Championships- April 2003- 2nd place
North Star Figure Masters- Bloomington, MN. - November 2003- 1st place
North Star Tall Figure November 2003- 4th place
Mid- Illinois Figure Championships April 2004- figure short 2nd place
Adela Garcia- Friedmansky Figure Championships June 2004- Figure tall 5th place
Jr. Nationals- June 2004 Figure class C
Central USA Figure Championships 2005- 3rd Figure Medium
Kansas City Figure Championships 2005- 3rd Figure Tall
Jr. Nationals 2006- 16th Figure Class C
Figure Nationals 2006- 15th Figure Class E
Ronnie Coleman Classic 2008- 6th Masters Figure, 11th Figure Class D
Lone Star Classic 2008- 3rd Figure Class D, 3rd Figure Masters
Real Gainz Fitness Magazine Ė Cover Girl 2006
Oxygen Magazine- Future of Fitness June 2006
Fitness Physique Magazine- Fall/ Winter 2006
Bodybuilding.com Ė Fitness competitor of the week.
Bodybuilding.com- Transformation of the week.
Visit Kim Schaefer's Website