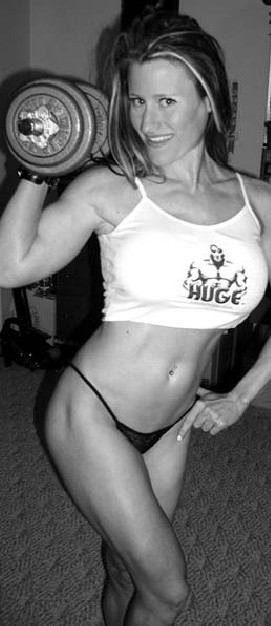 FREE Fitness Program
Build Muscle, Burn Fat
Get Your Dream Body Fast
Works For Both Women and Men!
Enter your first name and a valid email address
for instant access to the free ebook and workout routines.

Joy Trimble
Professional Fitness Model
Hi my name is Joy Trimble. I am a professional model. I have worked with top photographers in the Houston, Utah, and Las Vegas. I started modeling when I was about 18, but had to stop for a while because I had a baby, BELIEVE IT OR NOT! I started modeling again in January 2009 and have been doing very well! I work very hard on my body, what you see is what you get. Very little if any editing/airbrushing to my photos is needed. I am a very hard worker, funny, outgoing, personable, and determined to be a superb model. I am at the point in my modeling career where I will only do paid assignments. I am very athletic and am interested in fitness, fashion, glamour modeling, print, TV, trade shows (depending on trade show), ECT. I am willing to travel with all expenses paid. Height: 5'8''
Weight: 125lbs
Hair: Blonde
Eyes: Blue
Measurements: 33-26-32
Shoe: 8
Dress: 2
Age: 23
We also invite your participation in our Fitness Survey.
Get Lean Quick 14 Day
- Need to Get In Shape Fast? 14 Day Rapid Fat Loss Program.
How To Become a Female Fitness Model - Learn the Secrets to Become a Top Fitness Model.
Cyber Workout Buddy - Meet fitness minded people for friendship or romance.