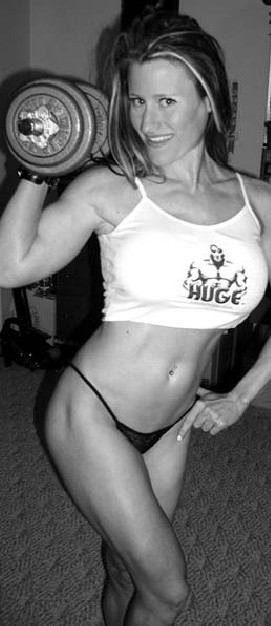 FREE Fitness Program
Build Muscle, Burn Fat
Get Your Dream Body Fast
Works For Both Women and Men!
Enter your first name and a valid email address
for instant access to the free ebook and workout routines.

Are You Hiding Your Physique?
By: Bonnie Pfiester
longevity fitness club & spa
www.longevityclubs.com
People who spend hours in the gym to gain muscle mass are often scared to death of losing weight in fear of losing muscle. I, for one, understand since I have a real difficult time gaining mass. I train so hard for the smallest bump and yet I need to keep my body fat low enough so you actually see each little bump of muscle I build.
Body building, or body sculpting, is a combination of science and illusions. Science dictates our development and then the illusion comes in when we tweak our diet. Ironically, we can actually appear more muscular the leaner we are Ė even if we lose a little muscle in the process.
My husband, Steve, has been competing in amateur bodybuilding for about fifteen years. It always amazes me how people react to him the closer he gets to a show. The leaner he gets the more people comment on how big heís getting. Sometimes he even gets accused of taking steroids. I have to laugh because all the while I know he feels like he is wasting away.
Ironically, Steve is normally anywhere from 10-20 pounds lighter when people are swearing he is bigger. This is the illusion part of the art. Although you often lose some muscle mass when dieting, you can actually look more muscular.
This works for women as well. While all women donít necessarily want to look like a bodybuilder, dieting can help uncover a fit physique too. As the waist and joint spaces get smaller, the desirable hour glass figure becomes more pronounced.
Cleaning up your diet is probably the hardest part of looking fit. However, weight training without dieting is like buying an exotic car you leave parked in your driveway with a cover over it. Maybe itís time to uncover your physique and work as hard on your diet as you do on in the gym.