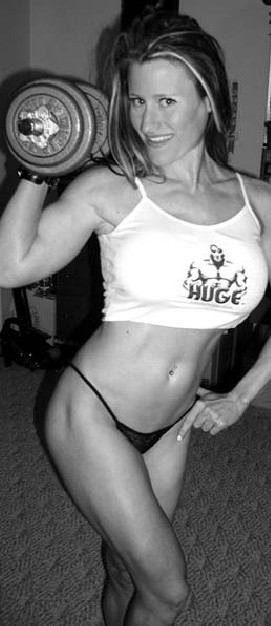 FREE Fitness Program
Build Muscle, Burn Fat
Get Your Dream Body Fast
Works For Both Women and Men!
Enter your first name and a valid email address
for instant access to the free ebook and workout routines.

Correct Posture
Look Like A Million Dollars By Practicing Good Posture
By: Bonnie Pfiester
longevity fitness club & spa
www.longevityclubs.com
We all know that using correct posture is beneficial to the body, but have you ever thought about the difference it makes in your appearance? My middle sister has the worst posture. She walks around shuffling her feet, knees slightly bent and shoulders rounded. She's such a smart girl, although her posture makes her appear insecure and lazy. When I make her stand up straight she looks simply beautiful. What a difference good posture can make!
When I interview employees, the ones with great posture always stand out. It screams confidence and poise. Some of the most striking people I've met were not only attractive but practiced good posture. Think of how the stars look when they hit the red carpet. Sure they have great clothes but they wouldn't look as fabulous in them if they were slouched over.
Although most people will agree that they should improve their posture, they often have many excuses for not correcting it. I hear excuses all the time. "I'm just tired". "I look ridiculous" or "it feels unnatural". Some girls feel like they are sticking out their chest which makes them uncomfortable. No matter how one feels or how hard it is to improve, working on your posture can make a difference and is worth the effort.
I know how hard it is. I used to have horrible posture myself. It started when I was young. Being five feet nine inches tall by my early teens, I was a little insecure about being taller than my boyfriend – if I could even get one to go out with the jolly lean giant. My answer was slouching down to everyone else's level. The next thing you know, I am all grown up, married and still hunched over. It wasn't until after my husband pointed out my bad posture that I actually even took notice.
Correcting my posture didn't happen overnight. My muscles were tight which didn't allow me to straighten up all the way. After strengthening and stretching my muscles with exercise it got a lot easier to stand up straight. I still fall into bad posture, especially when I am on my computer. Now that I am much more aware of my posture, I just make a conscious effort to correct it through out the day. I still have a little work to do, but I'm headed in the right direction and I feel great.
So, next time you are reading about the latest beauty product or plastic surgery procedure, don't forget the best beauty secret of all – good posture! It's free and it can make anyone look and feel like a million dollars!